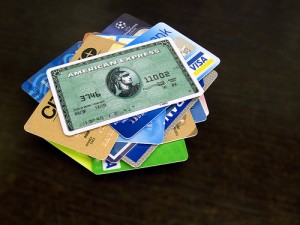 Tony and I have been credit card debt free since January of this year. But for the past couple of months, we've started using our cards again every month.
Don't worry, it's not what you think. We still don't carry a balance, and we probably never will again. But we also don't want to leave our credit cards with a zero balance for longer than a month or so right now.
I'm sure you've heard about credit card companies reducing credit lines or even closing unused accounts. By not using your zero-balance credit cards, you may be targeting yourself for account closure.
As much as I hate that it works this way, your credit history is tied pretty strongly to your credit card history — especially if you're like me and you've never had a car loan or a mortgage.
I opened my first credit card at 18 years old. I didn't open another one until I was 23 years old. If my first credit card account was closed, it would shave 5 years off my credit history. Since length of history is a factor in determining your credit history and score, it's likely mine would take a big hit.
Even though we plan to live as debt free as possible, I'm not against the idea of holding a mortgage or another car loan someday. If I want to get a low interest rate, though, keeping my credit history healthy is crucial.
To ensure that my accounts stay open, I'm using them a little bit here and there. Using credit cards at all can be a little dangerous, so I'm very careful to set boundaries.
I never use them to purchase things that I want, only regular needs that I would be spending money on regardless (gas, groceries, and other necessary purchases).
I pay the balance as soon as I receive the statement.
I budget for these purchases just like any other purchase. This is crucial. I'm not using my credit cards to sidestep my budget. They're just another way to pay for regular purchases.
It's definitely a hassle, and I wish we could get away with not using them at all. But unfortunately this is a reality of our current economy. I want to protect my credit history and credit score so that when we're ready, we can qualify for a low interest rate on our mortgage or (maybe) car loan.