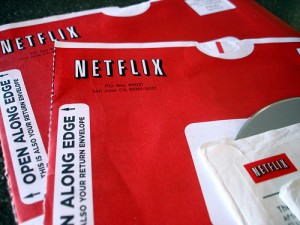 photo by katiescrapbooklady
We love renting movies from Redbox. For only a dollar a night (often free with Redbox promo codes) we can rent recent releases.
For older titles, we rent from the library. Tony's university library has a wide array of art films, mainstream titles, and TV series. They're also pretty good about adding new titles quickly, but there's often a long wait list for newer films that become available. We've rented a ton of great stuff from the library for free. It's our favorite way to rent movies.
While Redbox and the library are perfect for new releases and mainstream titles, we often want to see art films and TV series that aren't available through Redbox.
Lately, we've been considering other options for movie rentals. Online movie rental sites like Netflix and Blockbuster now offer online movie watching. Instead of waiting for a movie to be shipped to us, we can select what we want to see and watch it right on our computer. We like this idea, because it would allow us to watch a lot of movies even with the minimum one-DVD-at-a-time membership.
We're considering joining Netflix with the minimum membership so that we can get art films and TV series either mailed to us or streamed to our computers. (We looked into Blockbuster, too, but their streaming service requires Internet Explorer on a PC, and we both have Macs.) For $8.99 a month, we could rent one DVD at a time and watch unlimited movies online.
We're going to do a free trial first. Before we sign up, though, I just wanted to see if any of you have used this service. Are you happy with it? What is the selection of online movies like? I know they have a huge selection of movies by mail, but are all of the titles available to watch online? Do you still find yourself using Redbox or other rental services for convenience?