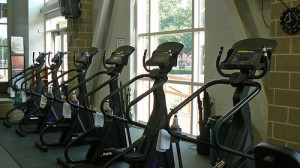 photo by yuan2003
I know, I know. I've been talking about my post-wedding, office job weight gain for months now. You'd think I'd have done something about it by now. Sigh.
Unfortunately, despite my attempts to eat healthier and get in shape, I've failed pretty miserably. I don't have the guts to weigh myself after a week and a half of holiday overeating, but I'm sure if I did I'd be 10-15 pounds heavier than I was on my wedding day just 7 months ago.
In the spirit of the new year (who doesn't vow to get healthier every New Year?), I've decided to really do it this time. Seriously. Don't laugh.
I take full responsibility for my own laziness and poor eating habits, but part of my problem in the last six months has been the gym in my apartment complex. I was excited to use the facilities for free (what frugal exerciser wouldn't love a free gym?). Unfortunately, it's a tiny room with only a tread mill, stationary bike, and weight machine.
Too often I returned home from work, changed into my workout clothes, and forced myself to go to the gym (getting there is the hardest part for me). When I arrived, I discovered that all of the machines were in use. Some nights I returned 3 or 4 times to find the machines in use by different people before finally giving up.
I've made the decision to use some Christmas gift money to join a proper gym.
I've found a gym close to my house that allows month-to-month membership fee payment. It costs $15 a month plus a one-time setup fee of $40. If I choose this membership option, I can cancel my membership at any time with no fees.
The other option I'm considering requires a 12-month commitment. I'm hesitant to do this, because even though I have the best of intentions, I don't want to end up paying a monthly fee for a membership I'm not using. However, the monthly fee is only $5 more per month, and the 12-month commitment carries with it unlimited guest privileges. That means Tony would have access to the gym, too, for just $5 more per month.
I did the math, and if I kept the membership for a full year paying month to month, it would cost $219 for the year. The 12-month membership with guest privileges would end up costing me $268 for the year.
I really don't like the mindset that many people have when it comes to gym memberships ("If I'm paying for it, then I'll HAVE to use it"). I find that it almost never works that way. People continue to pay every month even though they never use the gym.
However, I really like the idea of having the option to bring Tony with me to the gym if he wants to work out. If we went together for only 6 months, the rest of the year would pay for itself in the amount we saved. I also think I'd be more likely to stick to it not because I'm paying for it, but because Tony and I would be doing it together.
What do you think? Should I stick with the month-to-month dues or commit for a full year and risk paying for a membership I don't use?