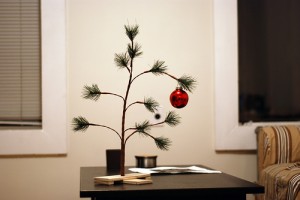 photo by kspeterson
Last year at this time, our financial situation was pretty bleak. I was working two jobs — a part time retail job and a temporary office job that paid well but only lasted until the end of February. Though we had some extra money coming in, we were saving aggressively because we didn't know how long our savings would have to last.
We were also away from family. I couldn't take time off work and we couldn't afford to travel, so we stayed here, 800-miles from our families.
At the beginning of the season, I was dreading Christmas. I imagined us alone in our apartment with no family, no gifts, no decorations and only sadness.
We looked at our budget and decided we could afford to spend $100 on Christmas. In the past, we had gone overboard on gift shopping for each other. I had come to associate Christmas with fancy gifts and extravagant meals. I couldn't imagine recreating Christmas with so little money to spend.
We were surprised, though. Finding practical frugal gifts was a fun challenge. I aggressively shopped sales to find little things to put under the tree. I used creativity to come up with ideas. I reassessed our priorities and shopped only for things that I knew Tony wanted and would use.
We had fun putting up our old decorations and fashioning new homemade ones.
Christmas Day we dined on cheap Chinese food and caught a half-priced matinee at the movies.
Instead of focusing on how little we had, we made the most of every dollar and every moment.
Remember: Gifts don't last, but memories do.
The most important lesson we learned last year was that gifts really don't make or break Christmas. Shopping is fun if you can afford it, but the best part of last Christmas is the memory.
Twenty years from now we won't have any of the gifts that we gave to each other. No matter how much you spend on it, stuff doesn't last forever. After 24 Christmases I can only remember a handful of gifts. Many of them didn't even last a year. What I remember is the time spent with family and the traditions that cost very little or nothing at all.
Keep that in mind if you're struggling this year. Even if there's no room in your budget for gifts, focus on the memories.
Make this Christmas a happy memory. Cherish the good moments and remember that the bad won't last forever. Remind yourself that "stuff" is fleeting.
If you focus on the negative, then all you'll remember is the sadness. Instead, focus on the memories you want to keep forever.
If you told me last October that our $100 Christmas would be the best we ever had, I wouldn't have believed you. A year later, I know that I'll always cherish the memory of last Christmas not in spite of our struggles but because of them.