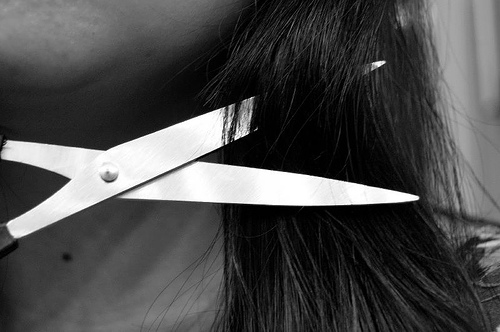 My hair is trouble. Always has been. It's naturally curly, oddly textured, and prone to breakage. If I don't take good care of it, I end up looking a little like the Bride of Frankenstein.
Obviously, I try to cut costs on things when I can. When we first moved and money was even tighter than it is now, I thought haircuts could be one of those things. I went with my husband to the $8 hair cuttery where he gets his trimmed. Bad mistake. My hair looked like it had been butchered with a dull steak knife. I was self-conscious about it for months until it grew out and I could get it cut again and evened out.
So I've resigned myself to paying a little extra to a stylist I trust will make me look my best. Since I pay about $40 a haircut (a luxury to be sure), I have to limit myself to just a couple haircuts a year.
There are a few things I do to extend the time between haircuts without letting my hair look like a hot mess. Even if you don't pay a lot for haircuts, these tips will keep your hair looking healthier for longer and extend the time between haircuts.
Use a good shampoo and conditioner.
I've written about how I get pricey salon haircare products for $3.25 a month. If your hair is no fuss, you might not notice a difference between salon products and more affordable brands. If you have dry, naturally curly, or damaged hair, you probably know what I'm talking about when I say it really can make a huge difference in the overall health and maintenance of your hair.
Take it easy on the heat styling.
I used to be a blow dry fanatic until a just a few weeks ago. Then I did the math and realized I was spending about 5 days a year styling my hair. Yikes. Now I'm wearing it curly more often. Even when I blow dried, though, I never did it more than twice a week. Heat styling damages hair and causes split ends faster. If you're addicted to blow drying, limit yourself to a couple times a week.
Just trim your bangs.
Typically your bangs need trimming sooner than the rest of your hair. If you're handy with scissors, keeping your bangs trimmed yourself can buy you a lot of time between cuts.
Personally, I don't trust myself to cut my own hair. But my stylist will trim my bangs for $7. I can pop in for a trim every other month and extend the time between full cuts to 6 months or so.
Obviously, the easiest way to avoid the hassle and expense of maintaining bangs is to grow them out.
The easiest way to save money on haircuts is not to be so particular about them. I know many faithful frugals who swear by beauty school haircuts. Maybe some day I'll get past my bad experiences and take the plunge. For now, I'll continuing seeing the stylist I trust twice a year. :)