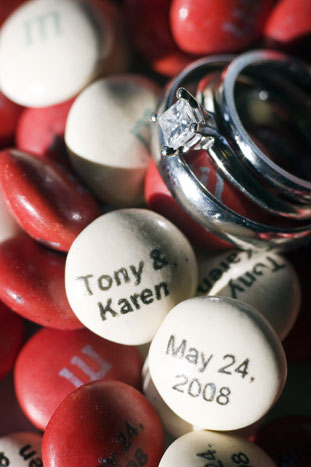 My husband and I agreed that we didn't want to spend a fortune on wedding bands. I know, it seems counter-productive to spend less on something you'll keep forever. I'm just not into jewelry, though. Anything flashy (read: expensive) would have looked out of place on my hand. The same is true for my husband. We opted for plain, white gold bands.
We were disappointed by the prices in brick and mortar stores even for plain gold bands. The prices online were much more reasonable, but buying jewelry online just seemed so risky.
After much deliberation and research, we ended up buying our rings online. We paid about half the price we would have paid in the store, and they engraved them for free. Here's the process we went though to make sure we were getting the right rings from a reputable dealer at a good price.
Shop in a brick and mortar store first to find the right style.
Jewelry is a lot like eyeglasses; you never know what's going to suit you until you try it on. I originally wanted a much thinner band than I ended up buying. After trying one on in the store, I realized the thin band looked weird on my hand. That's why it's important to shop in a brick and mortar store, try on a lot of different rings, and find the style you like best.
Have your ring finger professionally sized.
Many women already know their ring size. Most men don't. If you're unsure about either of your sizes,  just ask a jeweler to size your finger while you're shopping in a brick and mortar store. Some online stores offer free resizing, but you'll still have to go through the hassle of sending back the ring and waiting.
If possible, have your finger sized on a hot, humid day. Your fingers swell in the heat and humidity and shrink in the cold. Sizing your finger on a humid day will ensure a comfortable fit year round.
Compare prices and special offers at several online wedding band retailers.
We had a lot of different options since we wanted plain bands; everybody carries plain bands. Most of the prices we saw were comparable. However, the site we chose, iweddingband.com, offered slightly lower prices, free shipping, and free engraving.
Make sure you're buying from a reputable online jeweler.
There are several things you can do to check up on an online seller. First, look for a Better Business Bureau online seal. Clicking on the seal should take you to a unique verification page specific to that site at the Better Business Bureau website. Here's what it looks like:
Beware of sites where the logo is a dead link. As you can see, it's easy to copy and paste the BBB logo. The logo must be linked to a unique verification page in order to be legit. Most reputable sites also link to secure transaction sites like VeriSign, GeoTrust, or Authorize.net to ensure that your credit card information will be secure. Be sure to click on these logos to verify their legitimacy, too.
4. Find out what other customers are saying.

Just because a jeweler is legit doesn't mean they offer good customer service. I researched potential sellers exhaustively for customer reviews.
Many online businesses list their products on Amazon. This is a good place to find credible reviews for online sellers. You can see the Amazon profile for iweddingband.com here. I'd say 100% positive reviews in the past 30 days is a pretty safe bet to me. The comments say things like, "Fast shipping, great product," etc. Seeing all of those happy customer reviews made me feel pretty secure.
We ended up paying a total of $150 for both of our 14K white gold wedding bands including shipping and engraving. They are also the "comfort fit" bands that are designed for a better fit without cutting into your finger.
Here's a list of some of the other sites I considered. Don't take my word for it, though. Be sure to do your own comparison shopping and research on the companies before buying so you can feel secure in your purchase.
E-Wedding Bands – Offers free shipping and free sizing. 30-day return policy.
Blue Nile – Huge selection of wedding bands and diamond engagement rings. Free shipping and 30-day return policy.
James Allen – Loose diamonds, engagement rings, and wedding bands. Free insured shipping. Free sizing up to 60 days.