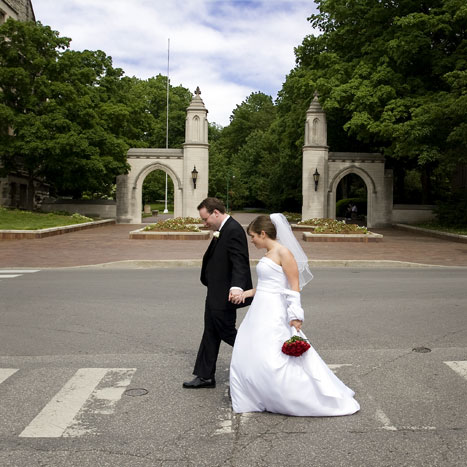 Every couple has a different set of priorities. Some couples choose to spend next to nothing on the wedding so they can take the trip of a lifetime for their honeymoon. For some brides, a designer dress is the budget buster.
For us, it was photography. When we first started planning, we weren't going to hire a photographer at all. My mom has a professional-grade camera that she uses to take photos for fun. We were going to put her in charge of photographing the day.
Then I started talking to my married friends. Their advice? "If you're going to spend money on something, it should be the pictures." Why? Because the day flies by so quickly, you probably won't remember any of it without the photos to remind you.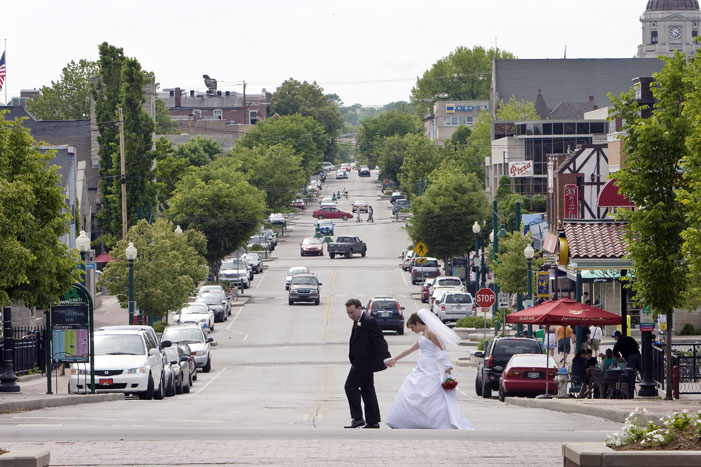 When I really thought about it, I realized they were right. I wanted a permanent keepsake that would last long after the food was gone and the flowers had wilted. Tony and I will never be that dressed up again. We wanted professional photos to remember it forever.
We started looking for a photographer who could take professional photos at amateur rates. After interviewing several people and looking at their work, we just weren't impressed. Their portfolios matched their amateur rates.
In the end, we decided to hire a professional photographer who was highly recommended by a friend. We spent less in other areas so we could devote almost half our budget to photography. It was worth every penny.
Because we were married in our college town, the pictures serve as a reminder not only of the wedding, but of the place we met and fell in love. The picture above is us in front of our favorite college bar. Ha!
We were married on campus, and our reception was held in a restaurant downtown. We walked from the chapel to the reception, and the photographer followed and took some great pictures of us in the heart of Bloomington.
It's only been four months since the wedding, and I already feel wistful when I look at the framed wedding photos on our bookshelf. I know I'll cherish these photos even more when we're old and gray.
If you're getting married in the Indianapolis area, I hope you'll consider Zach Dobson Photography for your photography. All of the beautiful wedding photos in this series were taken by Zach Dobson. We were thrilled with his work.
Maybe your top priority is the honeymoon. Maybe it's an open bar or a professional DJ. If it matters to you, then it belongs in your budget. The important thing is that you're not going overboard on everything.
Figure out what your priorities are, and adjust your budget accordingly. If there's something really important to you, it's ok to work it into your budget even if it's expensive. Just remember, you'll have to cut corners in other areas to make room for it.
What about you? What was your wedding budget buster?