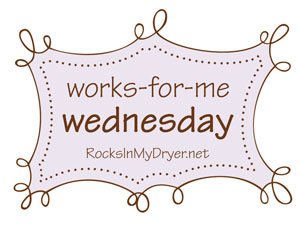 For this week's Works for Me Wednesday, I'm going to go ahead and disagree with Shannon at Rocks in my Dryer who says salon haircare products are a rip-off.
For people like me with extremely dry, unmanageable naturally curly hair, salon products can be a lifesaver (and a time saver). Many people don't notice a difference between salon products and cheaper brands, but when I used Suave my hair was a big mess. I could barely get a comb through it, and it was so brittle it crunched when I brushed it. The salon products leave my hair healthier and easier to manage.
So how can I afford salon products on a frugal budget? It's easier than you think.
I absolutely love Paul Mitchell Super Strong shampoo and conditioner, which runs about $18 a bottle for about 10 ounces in most salons. That's $1.80 an ounce. Yikes.
I've never paid $18 for a little bottle. Many salons sell sets with 1 liter (34 ounces) each of shampoo and conditioner for $26 total. At that price, I'm paying 38 cents an ounce. Much better.
Just by buying in bulk, I'm already saving $1.42 an ounce. Then I stretch my savings even further by limiting my consumption.
My hair is extremely dry (I'm talking Sahara here), so it's actually much healthier when I only wash it a couple times a week. My sister, on the other hand, has beautiful, easy-to-manage hair. I can't tell you how jealous I was in high school when she woke up 10 minutes before we left, jumped in the shower, and let her hair air-dry beautifully while I was up 2 hours early fussing with my daily bad hair days. If she goes longer than 24 hours without washing it, though, it starts looking oily and limp. She has to wash her hair every day, but the trade-off is she can use the cheapest shampoo and still have good results.
Most people fall somewhere in between — you might not have camel-hair like mine that can go days without water, but you probably don't need to wash every single day. Try washing it every other day. If it still looks great the second day (and it most likely will), see if you can make it another day. Don't wash your hair every single day unless you discover you absolutely need to. Trust me, unless you're one of those people with extremely oily hair, you'll discover that cutting back on washing will make a world of difference in the overall health of your hair and reduce your haircare budget dramatically.
Even though I have very thick hair, I only use a tiny dollop of shampoo and conditioner. You'd be surprised how little you need to get a good lather and get your hair clean. Experiment with this, too. Remember, you can always add more if you're not getting enough lather, but you can't take it off your head and put it back into the bottle if you use too much.
Using these tricks, I'm able to stretch those 1liter bottles out to about 8 months. My combined cost for shampoo and conditioner is roughly 81 cents a week or $3.25 a month.
Side note: Because my husband washes his hair every day and doesn't care what kind of shampoo he uses, we use separate shampoos. We buy generics or whatever is free at the drugstores for him.
For those of you with no-fuss hair, getting random brands for free or next to nothing at the drug stores is certainly a better deal. But for those of you like me, there is an alternative to cheap brands that won't break your frugal budget.