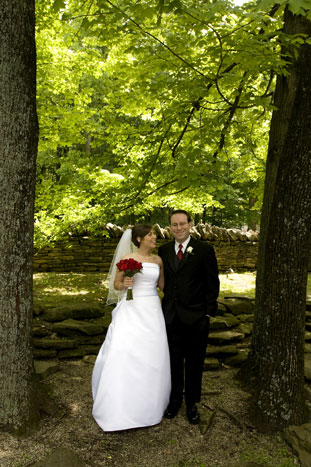 My husband and I got engaged last July less than a month before we moved 800 miles away to a new city. Not only did the move cost us a fortune, but our income was cut dramatically. We were also in the process of paying down debt and trying to live on a lot less money, so the last thing I wanted to do was charge anything on a credit card.
With a little planning and a lot of compromising, we managed to plan a beautiful Indiana wedding from 800 miles away on a $5000 budget without increasing our debt or sacrificing what mattered most to us. The money came from our savings as well as some generous contributions from our parents.
The wedding culture can be all or nothing … for a long time I thought you either had to spend tens of thousands of dollars on your wedding or have a backyard barbecue with nothing in between. Last year, Kacie at Sense to Save wrote a series posts about how she saved money on her wedding, and I found it very helpful as I planned.
I did things a lot differently than she did, but it was encouraging to know that it's possible to have a beautiful, traditional wedding without starting your life together thousands of dollars in debt.
I discovered that there's an endless list of options between extravagant and super casual. You just have to determine your priorities, decide how much you can spend without putting yourself into debt, and sometimes talk yourself down from wedding mania with some realism.
Every Wednesday, I'll be writing a post about a different aspect of our wedding and how we saved money and kept it simple. I hope this series can help some wedding planners put it all into perspective.