I grew up with three sisters, and I was third born, so birthday parties weren't a yearly deal for us. We each had a party or two to celebrate big milestones, but my mom didn't throw a huge party for each of us every year — and I don't blame her. I probably won't either.
For Judah's first birthday, we had a small party with cake and food for family only. This year, I've made friends with some families near us who have children around Judah's age, so I wanted to have a fun kid party to celebrate what we're hoping will be Judah's last birthday as an only child. When I started researching party ideas, I was shocked at how expensive most party venues are. I would love to have a backyard barbecue, but that's not really an option for November in Indiana, and I was afraid to let loose 10+ kids under 4 in my living room. By making a few compromises, we were able to celebrate Judah's second birthday with all his friends without spending a fortune.
Throw a joint party.
I'm lucky to have a friend whose son is just 5 days older than Judah. It was her idea to combine their parties this year, and I'm so glad we did it that way. We share a lot of friends, so our guest lists would have had a lot of overlap anyway, and we were able to split the cost of the venue, food, and decorations between two families. At 2 years old, the boys didn't mind sharing their parties a bit, and since we were both pretty laid back about the party, my friend and I didn't have any trouble planning it together.
Plan ahead.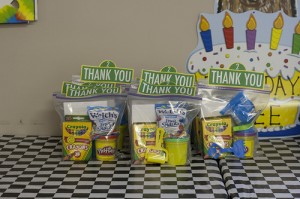 I was particularly proud of the goody bags, which included a 24-pack of crayons, a full-sized Play Doh, some Play Doh molds, fruit snacks, and a print out coloring sheet. The Sesame Street "Thank You" sign is an Internet printable that my friend found on Pinterest, and we used Zip lock bags to hold everything. I bought the crayons in bulk during the back-to-school sales for 50 cents a box, and my friend got the Play Doh in a Black Friday sale for under 50 cents each, so each bag cost us under $2. And of course splitting the costs between the two of us made them even less expensive. I was happy to hand out fun toys that the kids would actually use instead of cheap things that would be thrown away or lost before they even made it home.
For toddlers, all you really need is a lot of space.
We called the zoo, inflatable play places, museums — all of them wanted $300+ for a 2-3 hour party, not including food. Even though we were splitting the cost, that was just too much for a toddler party. Finally we found a fun play place that's really just a giant open space with lots of toys where the kids can run around. It cost $100 for 15 kids and 2 hours of play.
Other cheap (or free) options we considered:
Many local libraries have conference rooms that can be rented out for cheap or even free.
Your home if you have the space for it and the energy/desire to clean before and after the party.
A park or your own backyard if weather permits.
As long as the kids have room to run around, you won't need to plan activities or games. It's hard to wrangle kids and keep their attention anyway, and you'll kill yourself trying to plan things. Since we only had two hours, and our boys are too young to have any expectations for gifts, we also asked our guests not to worry about presents. This gave the kids more time to play and saved us the trouble of coordinating gift opening for two active toddlers.
Always buy less food than you think you'll need.
RSVPs are notoriously inaccurate for kid parties. Kids get sick, they miss their naptimes, things happen. We ended up with about half as many kids and parents as we expected. Add to that the fact that the kids were too busy playing to eat much (Judah ate a single bite of pizza and threw a mega tantrum when we got home because we was starving, pfft). We ended up with about 8 whole pizzas to get rid of at the end of the party (we ordered 15). Keep all of this in mind when ordering, and try not to overdo it. In fact, for very young children, you're probably better off serving just finger foods and cake and having the party between meal times (2-4 pm, for instance). Trying to get the kids to sit still and eat is almost impossible, and without a big meal there will be more time for play.
Make a cake.
Since the boys were sharing the party, I wanted them each to have a cake. I am hopeless when it comes to decorating, and anything I made would likely end up looking like those failed Cookie Monster cupcakes we've all seen on Pinterest. So I ordered a small cake from the grocery store for $15. My friend's mom is a talented cake decorator who made this adorable Elmo cake for the price of the cake pan and ingredients. Surprisingly, most of the cake did get eaten, so I don't regret our decision to serve two small cakes. I probably could have saved a ton by baking a simple cake and decorating it with toys he already has (the baker at the grocery store suggested cars or dinosaur figures).
What are your tips for frugal kid parties? I'd love to hear them in the comments.