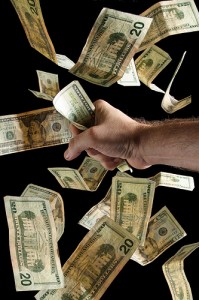 If you're planning to buy a house in the near future, then I'm sure you've heard this from a million people already, but I'll tell you again: it ain't cheap.
So what does it really cost? Well, you're probably already saving 5-20% of your purchase price for a down payment and 1-3% for your closing costs. That's not a small chunk of change. Unfortunately, that's not all you're going to need to save. Here are a few of the costs we encountered on our little home buying adventure.
Emergency fund
Up until now, you've probably had a landlord. If your heater stops working, you call the landlord, and they send someone to fix it on their dime. Roof leak? Call the landlord. Broken refrigerator? Call the landlord. Now that you're a homeowner, the landlord is you. Don't plan on spending every last cent of your savings account to move into your home. As a homeowner, access to an adequate emergency fund is more important than ever. Negotiating a home warranty into your purchase can relieve some of this responsibility for a year or so, but it won't cover everything. Make sure you have some cash on hand to avoid getting in over your head.
Appliances – $500 and up. The sky is the limit if you want to get fancy Food Network appliances!
These days, the housing market is full of foreclosure properties. Sure, you can get a great house for a low price, but often these homes don't include appliances like a stove, refrigerator, dishwasher, washer or dryer. Sometimes if you're buying from a seller instead of a bank, some or all of the kitchen appliances will be included. Sometimes they're not. We saw several houses that didn't include some or all of the appliances. In our case, we were lucky to buy a house with a stove and dishwasher. We already own our washer and dryer (bartered from a friend in North Carolina in exchange for moving help). But our home did not include a refrigerator, so we had to purchase one.
Sometimes a good deal can be found at secondhand or consignment shops. However, you are taking a risk that the appliance bought will be missing one or more vital parts. Luckily, no matter what brand — Kenmore, Electrolux, General Electric, Jenn-Air, KitchenAid, and others — it's usually possible to find replacement parts inexpensively. You may even be able to get an old refrigerator running like new for only a few dollars.

Lawnmower – $200 – $5000
If you're moving into your first home after living in apartments, you've never experienced the joy of yard maintenance. Now instead of cursing the landscapers for kicking up pollen and noisily mowing away outside a few times a month, that will be your job. We have almost an acre of land that's quickly growing out of control, so we'll have to buy a mower before we move in.
Window coverings – $200 and up
Some homeowners will leave things like blinds, curtains, or other window coverings that were custom-made for the home. Often they don't. Because our house was recently remodeled and new windows were installed, there's nothing covering them. Unless we want to give our neighbors a peep show, we've got to invest in some blinds. As much as I love our dramatic, custom windows, I learned the hard way that fancy windows are more expensive to cover. We had to order custom-cut blinds to fit our unique window sizes. If your windows are standard size, mini blinds can be a cheap option to cover your windows until you can save up for something fancier.
Propane – $500 – $1000 depending on the tank size
I'm a city girl, and I assumed that everyone in the world has access to a natural gas line in their homes, and they just receive a heating bill every month. Not so. If you're moving into a house in the country, you may have a giant propane tank next to your house that needs to be filled. Rates are lower in the summer when demand is lower, and in our case, the first fill has to be paid upfront. After that we can get on a monthly "budget" plan to build a credit and cover the next fill-up.
Optional costs – Prices will vary.
Paint
If you hate the colors the previous owner chose or the paint needs a touch-up, be prepared to invest some money and elbow grease into repainting. Our house was completely repainted as part of the remodel. They're not the colors I would have chosen, but it's fresh paint and I don't hate the colors, so we chose to leave the walls as they are for at least a year or two.
Decorations
If you don't repaint — or you choose a color much different from your previous home — you may discover that the decorations you bring no longer match your decor. You can always choose to add decorations a little at a time to reduce the upfront cost. If you don't have the money to decorate right away, be prepared to live with bare walls for a little while.
Furnishings
The square footage of our new home is almost double that of our apartment. When you suddenly gain that much extra space, you realize just how much furniture it will take to fill it. We'll have to live with an empty den for a while until we can find a nice used sofa or save enough to upgrade our living room furniture and move the old stuff into the den.
Thankfully, we've been saving for the past 5 years, so even though we underestimated the amount of cash we'd need to buy our house, we can afford the extra costs. Be sure you count on some extra costs if you're planning to buy a home.