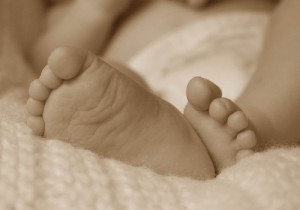 Today I'm 37 weeks pregnant. That means I'm medically considered "full term." At this point, baby is pretty much done with all of his major development. For the next few weeks, he'll just be gaining weight.
Since big babies run in both of our families and rough estimates from my midwives have already determined he's likely on the large side, I'd really rather he didn't stick around too long to gain too much weight.
I figured now would be a good time for all of my lovely readers to make some guesses! Here's some information to help you:
I've only had two ultrasounds — a very early one around 9 or 10 weeks, and an anatomy scan at 18 weeks which pretty clearly showed a boy. But I guess we won't be 100% sure until he's born. (Sure hoping it's a boy, though, or a girl who really likes blue and green.)
Tony was close to 10 pounds at birth, and I'm pretty sure he was born after 40 weeks. I was born on my due date, and I weighed roughly 8 and a half pounds.
My belly has measured exactly 2 weeks ahead consistently since they started measuring at around 20 weeks.
My original due date was December 5 based on measurements taken during the initial ultrasound. I've been told this is a pretty accurate way to estimate due dates, but I felt like the dates were off, so I talked them into pushing my due date up to December 9 to avoid an early induction.
*TMI alert* At my appointment last week (11 days ago), I was 2 cm dilated, 80% effaced, and the baby was at -1 station (almost completely dropped). In the past week, changes in his movement patterns and increased pain and pressure lead me to believe he's dropped even lower. My midwife at this week's appointment felt my belly from the outside, and said it feels like he's pretty locked in, so I'm guessing he's at 0 or lower at this point (completely dropped and in position for birth).
Most babies are not born on their due dates. He could come at any time between 37 and 42 weeks. My midwives won't let my pregnancy go past 42 weeks, so December 23 is the latest he can be born.
I plan to let baby come on his own without any induction methods unless it becomes medically necessary, which is unlikely unless I go all the way to 42 weeks.
The full moon this month is this Sunday, November 21.
Here are my guesses:
Gender: Boy
Birthday: November 22
Time: 11:30 a.m.
Weight: 8 pounds, 2 oz.
Length: 19 inches
I think that's more wishful thinking than actual guesses, though. :) Now make your guesses!