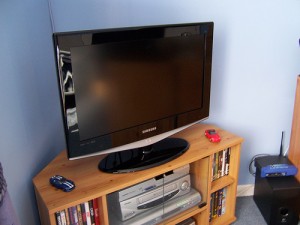 Last week, we joined the legions of personal finance bloggers who have canceled their cable TV.
In August, our yearly "promotion" ended, and the cost of our cable and Internet increased from $97 a month to $108 a month. Of course, like a lot of people, we were talked into the digital cable/Internet bundle. We had digital cable with more channels than we ever watched, HDTV even though we have an old TV, and DVR. I have to admit, the DVR was nice. But lately I've been thinking about just how much TV we watch.
We have never used the On Demand services, and the majority of shows recorded on our DVR come from regular network stations. Like I said, with our busy schedules, DVR is nice. But here's the thing: every single one of the shows we watch is available online for at least a week after it airs. We could basically watch them online on our own time without paying for cable or DVR.
When I made the initial call to get some information, they of course tried to talk me into keeping at least basic broadcast channels for $10 a month. What they didn't tell me is those channels are free with a digital converter box or digital TV.
We've been trying to find a way to cut expenses ever further lately, and we've always planned on upgrading to a newer TV at some point before we move. Because we plan on buying a new TV in the next year or so, we don't see any reason to invest in the digital converter box now since we can watch all our favorite shows online.
Canceling cable will save us $60 a month or $900  over the next 15 months. We'll put that money in a separate savings account and use it to buy a new TV and a Playstation 3 after we move. We're not big gamers, but we've been looking into a digital multmedia player that will function as an external hard drive and allow us to stream Netflix, photos, and music to our TV. Plus we'd be able to rent games if we wanted to. :)
Bonus: we'll spend less time channel surfing and watching things that we don't even really enjoy, and more time reading, blogging, and talking. It's win/win!
I never thought I'd be so excited to cancel cable, but putting that money to good use has really motivated us!
Photo by adspackman