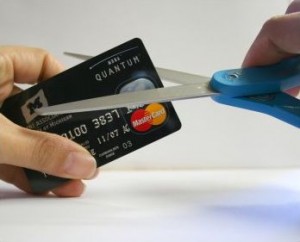 photo by b.franchina
This morning I sent my final payment to American Express. We're officially credit card debt free!! In the past year, we've paid off almost $5,000 in credit card debt. I'm pretty proud considering how low our income was for a big part of the year. :)
Unfortunately, we still have quite a ways to go before we're totally debt free — we have a combined total of about $60,000 in student loan debt. :( But we're a lot better off than we were a year ago. Now I know what works, and I can apply the same principles to our student loan debt.
I'm hoping to have my $20,000 private loan paid off in 2 years. It's a pretty lofty goal considering it took us a year to pay off less than $5,000 in credit card debt, but we have more income now and we're getting better at frugal living.
The student loan debt is overwhelming, but I keep reminding myself that I once felt that way about my credit card debt. High balances and high interest rates made it feel impossible to get ahead. But I just kept sending those payments every month, watching the balance slowly decrease until it was manageable.
I'm looking forward to getting those student loans out of my life using the same method.