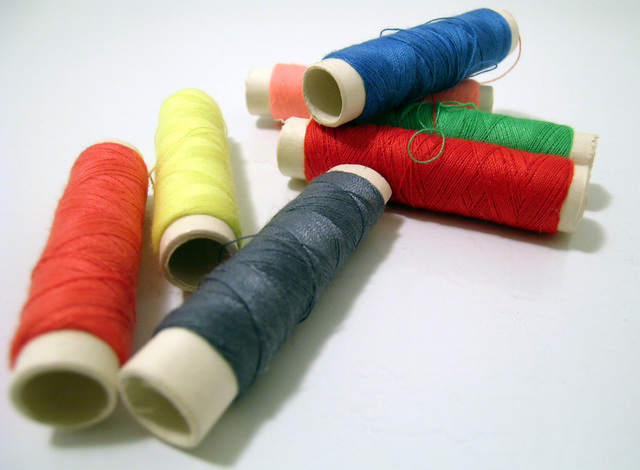 In general, most frugal folks don't like to admit that the frugal lifestyle deprives them of anything. We pride ourselves in the ability to find ways to get the things we want in life without spending too much money. There are certainly sacrifices involved, but for the most part, we're able to find creative ways to live a full life on less money.
I'm trying to find balance between frugality and deprivation. It's tricky to know the difference when you're just starting out. But I think it's crucial to balance the two, or you risk resenting your frugal lifestyle and giving up.
I love to quilt. I've been doing it to some degree since I was a teenager. It wasn't until after I graduated college that I got my own sewing machine and started really getting into it. About a year ago, I gave up quilting for my frugal lifestyle.
You see, quilting is an expensive hobby. Compared to the high cost of beautiful handmade quilts, it's relatively inexpensive. But fabric and thread and other notions can run pretty steep.
Over the weekend, I dug my two unfinished projects out of storage. I've put hours and hours of labor into these two quilt tops (one of which was sewn completely by hand), but I stopped short of quilting them a year ago because I deemed quilting a frivolous hobby that would have to wait until we had more income.
Well, now we have more income. I've decided that wasting my hard work and the money I already invested in the fabric is more wasteful than spending the extra money to finish them. All of that money and work, and we don't even have the quilts to show for it?
So I headed to the fabric store and bought batting, quilting thread, and fabric for the backing. Even with a coupon for 40% off the fabric, I ended up spending $30. I'll have to rework some of our unnecessary spending in our budget to make sure we don't go over (with my husband's blessing, of course). But now I have everything I need to complete two beautiful quilts that would cost hundreds in a store. Well, maybe not hundreds, but much more than I paid for supplies.
My point is this: being frugal doesn't mean giving up the hobbies you love. Is there something that you really love to do that you've given up because it's too expensive? See if there's a creative way that you can reduce its costs or limit your spending on it without giving it up completely.
For me it was quilting. Rather than giving it up completely, I've decided to work it into my budget. Can I afford to spend $30 a month on quilting? Probably. But that seems a little excessive to me, so I'm compromising. I decided to attempt hand-quilting one of them. This will extend the amount of time it takes me to finish it. I'll be able to enjoy this project longer if it takes me longer to finish.
Because I only quilt for a little while in the evenings, it will probably be another 3 months before I'm ready to invest in the materials to start a new project. Hopefully, I'll enjoy hand-quilting more than machine quilting, and I'll be able to extend the time it takes me to finish projects. That way I'll always have something to work on, but I'll spend less money.
My husband's expensive hobby is movies. He would go to the theater once or twice a week and rent movies every day of the week in between if we could afford it. His solution is to rent old classic movies at the library for free. His university has a huge selection of quirky classics that he's never seen before. We haven't given up the theater completely, though. Every month or two, there's something we really want to see, so we go to the last matinee on Sunday when tickets are cheapest. We still end up paying $10 for two tickets, but that's a huge discount compared to the Friday night ticket price ($8.50 per ticket).
Maybe you love photography, but you don't want to spend hundreds on equipment. Look into a used camera or get creative with the digital editing on your snapshots. Maybe your beloved hobby is scrapbooking, but you can't afford all the materials. Limit yourself to a reasonable amount of scrapbook spending each month proportionate to your budget, and take a break when you reach your limit. It may take months to complete your projects, but that will just make them all the more satisfying when they're done.
Above all, being frugal is about finding a way to live the lifestyle you want without living above your means. Get creative. Find a way to make it work. You might be surprised what you can work into your budget if you want it badly enough.
How do you make room in your budget for the hobby you love?